Essence of Bellydance Teacher Training
Do you want to feel amazing in your body?
Do you want to take your dance technique and your career to the next level?
Do you want to be a powerful performer?
Do you want to grow as a teacher and as a person?
Do you want to inspire others?
Do you want to be part a cutting edge method with international recognition?
Then join our growing international community of excellent dance teachers and coaches.
Essence of Bellydance is a new holistic method combining the art of belly dance with pelvic floor integration, mindfulness and contemporary dance- and bodywork-techniques.
I studied belly dance in Europe and in Cairo, the cradle of the highly artistic Egyptian belly dance. I traveled there to study with the best belly dancers, eager to find the secret that made those dancers so powerful. The body wisdom that I found there and in my contemporary dance education is what I call Essence. In Essence of Bellydance we reconnect to our body on a deeper level, so we can dance and live powerfully from the inside out.
 — Coco
Coco's international workshops, programs and her YouTube channel have moved over 5 million women.
Sice 2013 we have trained and certified Essence of Bellydance teachers from Europe, North America, South America, Australia and Asia.
And 2019 is your chance!
Read Reviews
Training Berlin 2019
Module 1 Online starts April 15th 2019
Introduction to the Essence of Bellydance technique & philosophy
Introduction to the Coco Berlin Pelvic Floor Integration™ technique
Guided home study with script & online course
Personal support by Coco in the private Facebook group
Minimal effort required: 6 hours per week.
Module 2 live in Berlin Sat+Sun 8-9 June 2019
Essence of Bellydance technique & philosophy I
Pelvic Floor Integration™ technique
Bodywork & embodiment
Fundamental anatomy & dance medicine
Vision for career and life
Module 3 live in Berlin Sat+Sun 6-7 July 2019
Essence of Bellydance technique & philosophy II
Movement analysis & correction
Didactic and pedagogy
Psychology, leadership, professional ethics
Module 4 live in Berlin Sat+Sun 3-4 August 2019
Essence of Bellydance dance technique and philosophy III
Music analysis, movement combination, choreography, improvisation
Dance career & business
Timetable: Saturday & Sunday 10 am - 6 pm
In-Between Each Module Online
Guided home study
Personal support with Coco in the private Facebook group
Preparation of homework
Minimal effort required: 6 hours per week.
Online Exam & Coaching location independent
The exam is a recorded 90 minute lesson
After the exam you get your personal coaching session with Coco
And you get your certification
You get lifelong access to the online course
Access to our online teacher community and personal support with Coco
Listing in the teacher directory
Comprehensive teaching material and regular updates
Access to exclusive tainings with Coco
Quality Guarantee
The teacher training group will consist of a maximum of 14 students and every participant will be guided personally in their development.
We offer exclusive further education weekends for our certified teachers so you will always stay connected, supported, inspired and informed abut the latest developments of our industy.
Read Reviews
Prices
The full teacher training costs 1.797 Euros (incl. 19% VAT).
BUT WE HAVE AN EARLY BIRD SPECIAL:
Book now and get also
Coco's Business Workshop: 2 hour training and all templates and tools you need to run your courses with efficiency and ease: trial class invitations, contracts, terminations, reminders, gift vouchers, proposals, bills, best practice with defaulters, customer service software, newsletter systems, effective payment management and course administration. (value: 300 Euros)
The Sensuous Dance Workout Digital Edition to increase your sensuous body awareness today. (value: 39,99 Euros)
Immediate Lifetime Access to the Essence Online Training Premium Membership to start training like a pro today. (value: 358 Euros)
Get it all together for only 1.200 Euros (instead of 2.494,99 Euros)
A payment plan is available upon request.
THIS EARLY BIRD OFFER IS ONLY AVAILABLE FOR LIMITED TIME.
Note: To guarantee a personal mentoring the number of participants is restricted to 14 per year.
Download our Terms of Service here.
Read our FAQ here.
If you have a question or want us to call you, just write us.
Teacher Training Notification list
Sign up here to get updates on our upcoming teacher training.
We protect your data. See our privacy policy here.
Join our international community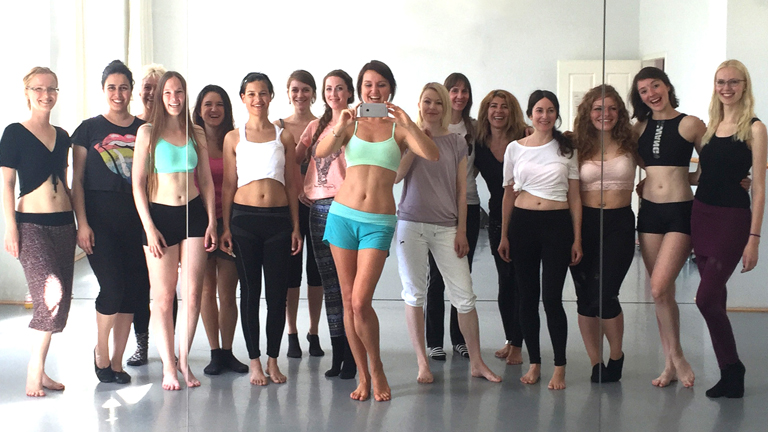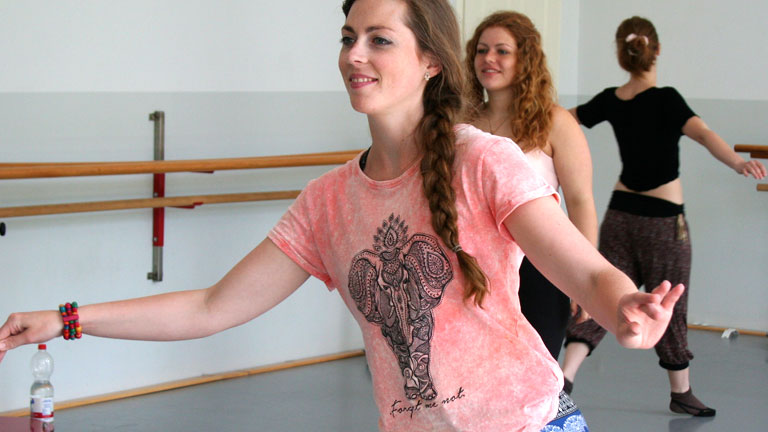 What our graduates say
Is the teacher training right for you? Our teachers talk about their experience and their life as a part of the Essence of Bellydance community:
Content Overview