ESSENCE OF BELLYDANCE™ Method
ESSENCE OF BELLYDANCE™ is a new holistic method combining the sensual art of belly dance with Pelvic Floor Integration™ and contemporary mindfulness- and bodywork-techniques. Philosophy
Enjoy getting lean, flexible and strong from head to toe
Activate your pelvic floor and your feminine power
Discover a new body awareness as you move from the inside out
Experience an immediate effect on your well-being and confidence
Coco Berlin the Founder
Coco has traveled the world to entertain clients such as Hilton, L'Oréal and BMW with her unique belly dance shows. The general public knows Coco through her countless appereances on Indian and German national TV like on The Bülent Ceylan Show and The Kurt Krömer Show and her collaborations with artists such as Natacha Atlas and Fady Maalouf.
Pelvic Floor Integration™ is a method developed by Coco Berlin since 2006. It strengthens the body-mind connection and enables the participants to become aware of the pelvic floor in its entirety, to train it dynamically and to relax it profoundly. Pelvic Floor Integration™ is the foundation of ESSENCE OF BELLYDANCE™, the Sensuous Dance Workout and Pussy Yoga.
Her international workshops, teacher trainings, and her online classes have moved over 7 million women worldwide. Her first book Pussy Yoga is an international bestseller with rave reviews by health professionals and the media.
I studied belly dance in Europe and in Cairo, the cradle of the highly artistic and fascinating Egyptian belly dance. I went there every year to observe and take classes with the best belly dancers, eager to find the secret that made those dancers so radiant. What I found there and in my studies of contemporary dance and bodywork here in Europe is what I teach now: the ESSENCE. In ESSENCE OF BELLYDANCE we reconnect to our body on a deeper level and dance from the inside out. We awaken our pelvic floor and connect it seamlessly to the rest of our body. It's a very personal way of moving that frees our body, mind and soul.  — Coco
Coco Berlin in the media
Coco's Book
International ESSENCE OF BELLYDANCE™ Team
Our team is a growing community of excellent dance teachers and coaches. Here you can get to know us and find a certified ESSENCE OF BELLYDANCE™ teacher near you.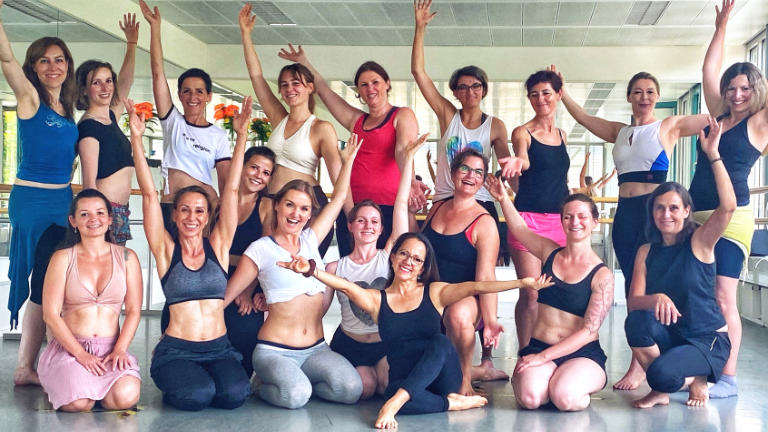 And join our online classes - it's free!